Problem Solving in Marriage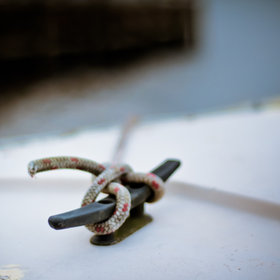 In this blog post, learn how one husband and wife learned to appreciate each other's different brainstyle for problem solving in marriage. The result was something that they both wanted – a new boat. Written by master facilitator Linda Bush, notice how each use their strengths work through a problem.
The Way We Were
I'm accustomed to high stakes negotiating including several house purchases, corporate contracts while at IBM, and ongoing vendor/supplier deals in my consulting business. Thus, I've acquired the role for our family as the leader in major acquisitions. To be honest, I was self-appointed in spite of my distaste for such tasks as the negotiation of price or the comparison of details and facts. And I received praise from friends and family members for "handling it all". So I kept on.
Soon after I learned about BrainStyles and the Strengths Contract. When my husband Gary and I made our next major purchase, I chose a different role. Learn more after the jump.
New Family Teamwork
From BrainStyles, we learned that we have two different ways of processing new information. I said to Gary, "You're best at sorting the facts, asking pertinent questions, and focusing. I'm best at relationship building and imagining the possibilities. Let's approach this purchase in a new way."
We both pored over the ads. Gary called the sellers and asked the initial pertinent questions and narrowed the list of candidates to visit. We made the visits together, and when we saw a boat we really liked, I facilitated a "get-to-know-you-and-trust-you" conversation with the sellers, while Gary asked blunt and focused questions as he crawled in, around, under and through the craft.
Gary's left-brained questions:
Has the prop ever been replaced?
Are those the true hours on the engine?
Have you done mostly fishing or water-skiing with those hours?
How many offers have you already had?
What were they? Why didn't you take them?
Have you done the maintenance yourself or had it done at a dealership?
Where does the moisture in the storage compartment come from?
Has the hull ever been painted? If so, why?
Have the brakes on the trailer ever been maintained?
How many miles would you estimate are on the tires on the trailer?
Why is the canopy moldy?
My right-brained questions:
How long have you been boaters?
How many children? Ages? Any grandchildren? Do they go along?
When did you start teaching the kids to water-ski?
What do your kids think about your selling the boat?
Where have you done most of your boating?
How have you managed to keep the seats in such nice condition?
What will you do without a boat? New interests? Buying another one?
At first I thought some of Gary's questions were too blunt and probing and sounded untrusting. I wondered if I should soften his interaction. Gary later confessed he thought my questions were too personal and sometimes irrelevant and wondered if he should distract me. Happily, we both let each other interact in our own way.
From our research, the seller's price was reasonable. I felt good about the couple who was selling the boat and wanted to give them their asking price. Gary was prepared to walk away if they didn't take his offer of $1,000 below asking price. He offered and they declined. We left in the rain. No boat, no deal. In the car, I expressed disappointment. Gary said, "Honey, there are lots of boats." All I could think was how perfect this one matched my new Expedition and his F250!
The Win-Win
Two days later, the seller called us, expressed how much they liked us, and said they would meet our offer and throw in competition water skis, a kneeboard, six life jackets, two tow ropes, and a canvas boat cover. Gary asked how soon they could meet us at the bank to transfer funds for title. They arranged to meet in a couple of hours.
I released control of the negotiation and we got the boat we wanted, at the price Gary wanted, with $1,000 worth of barely used equipment.
If you are interested in learning about how BrainStyles can positively affect your marriage, please visit BrainStyles for Lovers. If you would like to meet Linda and learn about leading from your strengths, join us for an upcoming webinar.