BrainStyles™ for Lovers:
Create Partnerships that Change Your Life WITHOUT Changing Who You Are SM.
The Book: Real people. Real relationships.
BrainStyles for Lovers was born in the lives of those in business seminars who took BrainStyles home. Walk through dating, romance, and fights to solutions called "Strengths Contracts." Journey from the hard-edged realities of genetics and personal limitations to a limitless, spiritual path through personal mastery of your brainstyle.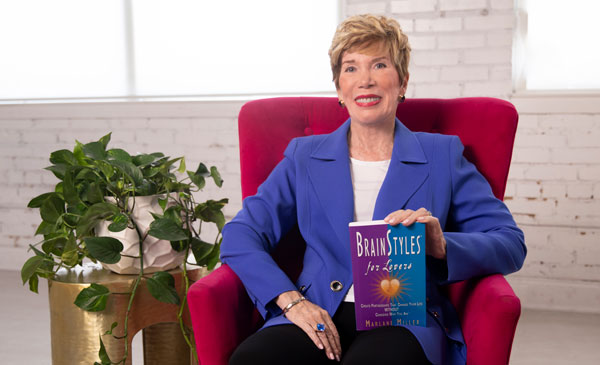 Here's a real story of how this works

.
BrainStyles® at Home:
The meeting with the contractor was directionless; we were all talking at once. [My husband] asked for a time-out. He pointed out that I was trying to contribute ideas in an area of his strengths (establishing the project overview). I instantly recognized this was true and did not defend or try to explain myself, as in the past. He needed to start the project by defining the shape and structure of the new room; I needed to contribute after this overview was established.
Given his brainstyle, his experience with a previous home, and his knowledge of my brainstyle, I asked where he thought I could make the biggest contribution. He suggested that I could coordinate the whole project between the contractor and the decorator (with his vote on major choices). I would be consulted on major structural choices (my concern). I was not only relieved, I was pleased. He set the boundaries, provided direction, and outlined the future; I was free to do what I knew how to do best: build relationships, coordinate the different elements of the project, and make visual choices.
.We worked together for the next eight months with more collaboration than we'd ever experienced. NO arguments….We began to praise one another on decisions made... Our marriage had become more of a partnership, something I thought impossible with the pressures of each of our careersnew I could do well…form relationships, and facilitate communications to keep the project on track.

--BrainStyles for Lovers®, p. 282-3 (excerpt from the book)
If you could discover what is preventing a closer, more intimate relationship with your partner, would you?
Author Marlane Miller has designed an instrument to uncover your ideal lover.
Dating? Do you know what you're looking for in a lover?
Want to know why you're happy or frustrated with the one you've got?
In a committed relationship? Want to learn what to expect and what to let go of?
What if you could have less conflict, less stress and more trust and respect?
The BrainStyle Inventory 3.5© for Lovers
You'll receive:
A review of your own brainstyle as a lover.
A description of the brainstyle profile of your ideal lover.
A list of what you CANNOT expect from this partner.
Questions to guide you in using this material in your relationship.
An exercise for you to complete to enhance understanding of your answers.
Next steps you can take with a BrainStyles coach to transform your relationship into a true partnership.
But First: Get grounded in your own gifts. Learn about BrainStyles. Take The BrainStyle Inventory© 2.0 to determine your brainstyle. Get an overview of each brainstyle and what to expect from their strengths.
To improve yourself, be more yourself.
To create a spiritual partnership, stop trying to change yourself
or your partner.